INFANT FORMULA MILK IS NOT A SUBSTITUTE NOR AS GOOD AS MOTHER'S MILK YET CHOICES ARE NEED TO BE MADE WHEN MOTHER'S SUPPLY IS LESS OR IN OTHER SUCH INSTANCES.
INFANT FORMULA MILK- GOAT MILK:
Goat milk is often praised as being one of the closest to breast milk.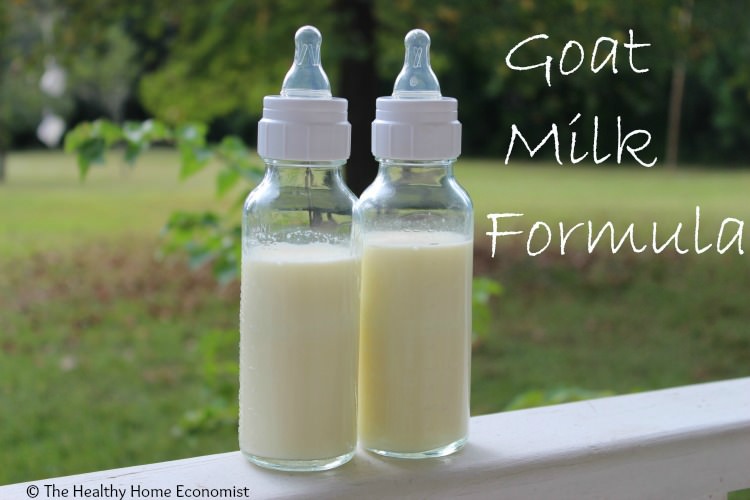 COMPOSITION:
 Although goat milk is rich in fat, it must be used with caution in infant feeding as it lacks folic acid and is low in vitamin B12, both of which are important infact vital for the growth ,nurturing and development of the infant.
Inclusion of nutritional yeast to provide folic acid is essential, as well as other additives to compensate for low levels of vitamin B12.
REVIEW:
Dr Sears review on goat milk for infants seems to be quite fair:
"Parents of babies allergic to cow's milk and other commercial formulas often ask if it's safe to use goat's milk as an alternative.
As per theory, goat's milk is safe and less allergenic comparatively more easily digestible and less heavy on tummy than cow's milk, but it should not be considered as a substitute or alternative for infant formula.
Like cow's milk, it can cause intestinal irritation and anaemia.
ADDITION OF VITAMINS TO GOAT MILK:
Human milk contains more whey, lactose, vitamin C, B12, folic acid, niacin, and certain essential fatty acids (long-chain polyunsaturated fatty acids like Omega 3s that are critical for brain development) than goat milk does, and goat milk is low in some essential nutrients like iron, folate, and vitamins B, C and D. It is essential to add vitamin and mineral supplements into your infant formula milk or diet when supplementing with goat milk. This is actually the purpose behind adding liquid baby vitamins to milk, is somehow necessary.
COCONUT MILK-
INFANT FORMULA MILK :
Coconuts are rich in nutrition, having minerals and vitamins for nurturing little body in a healthy manner . Its milk has been used by parents while preparing for their infant formula milk recipes by their own.
The reason coconut milk is a notable alternative is its high content of the fatty acid known as lauric acid, which is the predominant fatty acid found in mother's milk.
BENEFITS:
The lauric acid makes breast milk easily digestible, it strengthens the immune system and protects against viral, bacterial and fungal infections.
But coconut milk does not have all the protein or calcium an infant needs, so other parents using this option to add things like liquid calcium and other vitamin and mineral supplements to their formula.
Coconut milk comes from the coconut and is not considered a dairy product, making it safe for children suffering from milk allergies and intolerance.
HEMP MILK-
INFANT FORMULA MILK :
Hemp milk is Halaal, rich in essential growth vitamins, vital minerals, amino acids, proteins and essential good fats which meet a lot of the nutrient need criteria of infants.
ORIGIN:
It is produced from the seeds of the hemp plant, and rather easy to prepare yourself with the use of a blender.
This milk contains none of the THC found in marijuana, so rest assured!
COMPOSITION:
Hemp milk contains Omega-6s, 3s and 9s, and also contains magnesium, calcium, potassium, iron, and zinc so it is a good source for minerals.
Plain organic hemp milk contains no sugar, no cholesterol, and is free of soy and gluten.
For a lot of moms, above mentioned factors make it an healthy alternative and choice for an abundant vital nutrients source to give to their infants.
The essential fatty acids, vitamins & nutrients that are contained in organic hemp milk provide a wide variety of health benefits, as well as the fact that it contains all essential amino acids that the human body needs to function and develop optimally.
REVIEWS:
We spoke to Peter Daniel of Soaring Free Superfoods and Rawlicious, a conscious eating and raw food advocate who gives talks on all sorts of nutrition topics, about hemp milk.
 His daughter was drinking hemp milk from around the age of 6 months, included in her starter foods, and he has such confidence in the nutrient value of hemp milk that had his partner not been able to breast feed they would of used hemp milk in their own home made formula for their child.
Unfortunately due to the lack of information available on this subject, there is little solid research to back this idea, but many have also used hemp in conjunction with coconut milk to create their infant formula.
NOTE:
Please make sure that the knowledge shared and statements written are for education purposes and must not replace at any cost the advice of your doctor.
The views, statistics, information and nutritional values shared by us are not intended to be a substitute for traditional medical service.
If you have any serious and severe medical emergency or health concern, please see your general physician for your own benefit.